Mobile Coffee Cart for Adtrans and Iveco Trucks
Adtrans and Iveco Trucks celebrated their 100th birthday in style by providing our mobile coffee cart service to all staff at their Laverton North Truck Centre thanks to Brandscapes taking car of all catering requirments. It was an early start at 6am and attracted the CEO of the company along with all the senior managers to present to the staff and suppliers about the history of the company right back to its starting days in 1913.
It was very interesting hearing about how the company started and the history behind some of the original leaders of the company. We had the typical morning coffee rush from 6am-7am before everyone was settled in for the presentation to start. Some of the videos shown were of some existing customers right back to early suppliers and different aspects of the entire business and wider supply chain. They also showed video footage of the massive fundraising event held to raise funds for their chosen charities.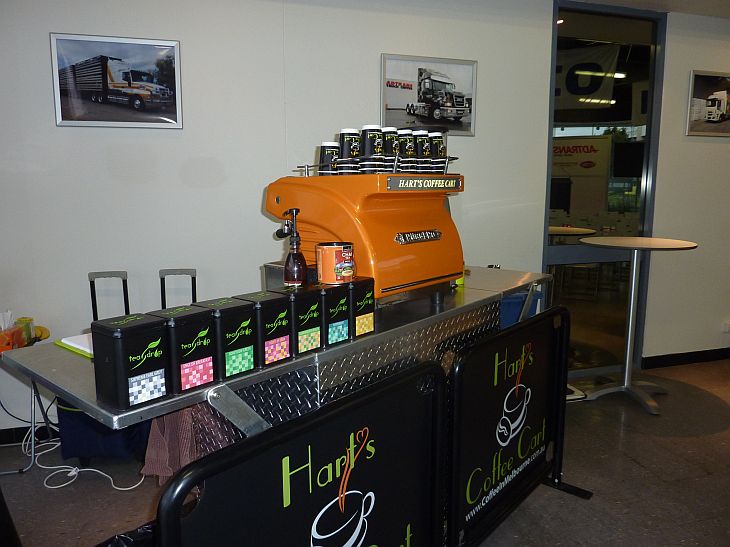 We noticed some high profile business people attended their gala dinner including Mark Bouris from Yellow Brick Road and Carl Stefanovic presenting the night just to name a few. The morning seemed to fly by and after the presentations all the staff were also treated to bacon and egg rolls to get them going for the day!
Coffee first followed by a great warm breakfast, what more could you ask for 🙂
We thank Brandscapes for hosting the event along with Adtrans and Iveco Trucks for having us onsite to provide our mobile coffee cart service for the morning.