Coffee At Work Melbourne
Did you know that you can have coffee at work by booking a fully catered coffee cart to arrive and set up at your work so that you have unlimited access to Real Barista made Coffee! No need to go out and line up at the local cafe, just book in a mobile coffee cart to set up onsite.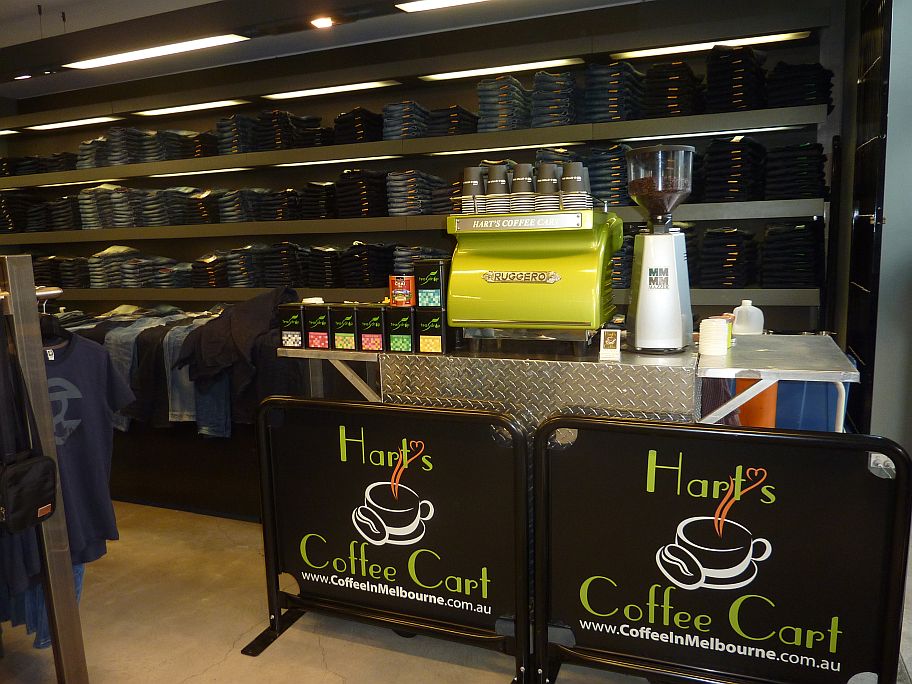 With the Ever increasing need for great coffee in and around Melbourne seeing as Melbourne is the Coffee Capital, we are noticing more workplaces booking in mobile coffee vendors to set up onsite so that their staff have access to freshly made espresso based coffee.
Sometimes, mobile coffee units like ours set up just for an hour for morning tea or like the above image taken at G-Star RAW clothing store in Chapel St, we were set up all day in store to serve the customers as they were browsing through the store, so works well and creates a great atmosphere where the customers feel comfortable in the environment.
We had a great day at G-Star RAW with all the staff. The music was pumping and the sweet smell of coffee throughout the store lead the customers in off the street. Can't wait to provide our mobile coffee cart in store again for these guys.
If you were interested in creating a great atmosphere within your retail store by providing Coffee At Work for your staff and customers then feel free to be in contact with us so that you can book in a date to treat everyone to freshly made espresso coffee. As long as we can gain access to the premises via ramps and or lifts and plug into a power point, Hart's Coffee Cart can visit you at your location to provide the ultimate mobile cafe experience!
Head over to our contact us page to enquire about Hart's Coffee Cart setting up at your workplace in Melbourne Jason Hart