Hire A Barista Melbourne
Need to add that special touch to your Work Function, Corporate Event, Private Party or Wedding in Melbourne? Why not hire a barista for your next special event to impress your guests! having a mobile coffee cart and barista set up onsite at your function really adds that exclusive touch and fits in well with other catering options. Your guests don't have to stray from the party to find that perfect cup of coffee, hot chocolate, tea or chai latte, they just have to approach the coffee cart and barista and order like they would at their local cafe 🙂
We find that the general public are getting well educated on coffee and the level of quality in each and every cup has to be spot on to impress! You can no longer serve up bad coffee in Melbourne as we are now known as the coffee capital of the world not just Australia and we have world coffee champions right here in Melbourne.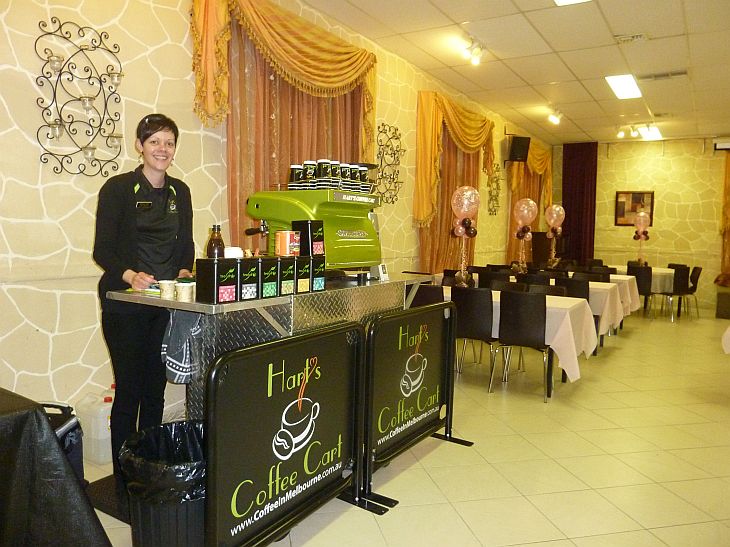 Feel free to Buy Coffee Online to sample any of the products we use at the functions and events we attend. Along with our own Hart's Coffee Blend "Kick Start My Hart" you can also purchase our TeaDrop range of tea, Gluten and Dairy Free Hot Chocolate and Arkadia Spice Chai.
To book our all inclusive mobile coffee cart hire service for your next function or event in Melbourne, head over and fill out our quick quote form and we will be in contact shortly. Also be sure to head over and like our Facebook page here to keep up to date with our travels in and around Melbourne.
Hire a Barista Melbourne