Eureka 89 Coffee Cart Melbourne
Over the last few years we have had many trips up the Eureka Tower to provide our mobile coffee cart service to guests for corporate functions and events. It is one of the best views in Melbourne and not one that too many barista's get to see! We consider ourselves very lucky to be able to work in such a great event space with other like minded hospitality professionals.
Some of the views over the Melbourne CBD are simply amazing as the sun rises and is something you need to see to believe! THe picture above was on an overcast morning however an hour or so into service the cloud lifted and the view became clearer as the morning went on. This event was for the staff at AFL headquarters.
One of the best parts of loading our mobile coffee cart up 89 floors into the function room at Eureka is the that sometimes their is also a few surprises on the guest list. As you will see below, one of the best was the function we did for Channel 9 and The Voice and none other than Ricky Martin and Livinia Nixon turned up along with Jackson Thomas to sing a few tunes!
All of the staff and Channel 9 and The Voice were a fun bunch to work with alongside the very organised Eureka 89 staff.
Eureka 89 View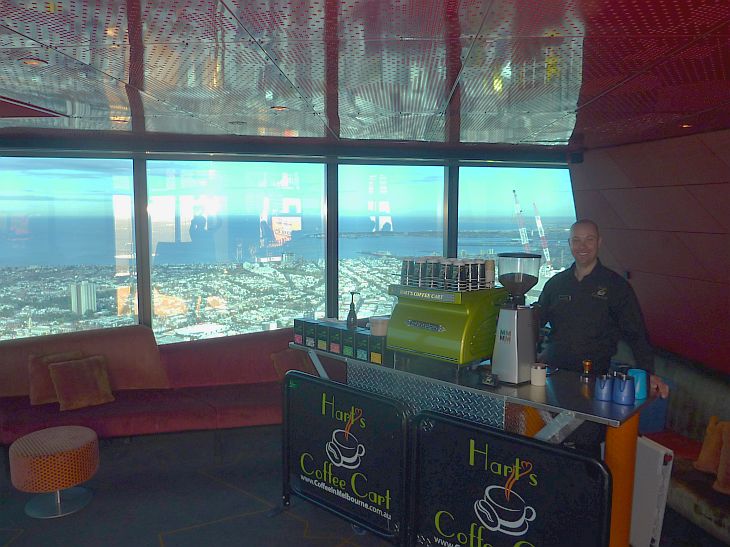 To book our all inclusive mobile coffee cart hire service for your next function or event in Melbourne, head over and fill out our quick quote form and we will be in contact shortly. Also be sure to head over and like our Facebook page here to keep up to date with our travels in and around Melbourne.